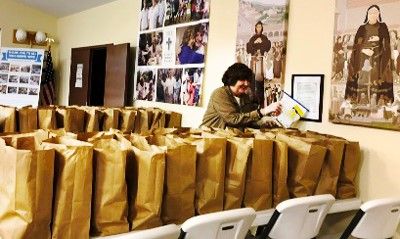 On Tuesday, the Sisters at the Felician Center in Kingstree, South Carolina, received a visit from Michael, a neighbor a few doors down. When they told him to be careful with the coronavirus going around, he had no idea what they were talking about. He has no TV.
The Felician Center continues to care for its neighbors through the current pandemic with adjustments to protect themselves and those they serve. The Food Pantry remains open but instead of client choice of foods, bags have been pre-prepared for a grab-and-go distribution. In addition, supplies such as nasal sprays, cold medicines, hand soap and Clorox cleaning agents have been made available. One person was extremely grateful to receive a thermometer.
The Williamsburg public school system has provided bus transportation for the delivery of meals to the households of children who are now out of school for an indefinite period. The Felician Center contacted each family with directives to pick up supplemental grocery bags that were also filled with additional health items, dates to pick up Easter Baskets and gift cards to use at local fast food restaurants.
"It has been a blessing to receive the support of our partners near and far," said the Sisters. "We are making decisions with guidelines from Felician Services Inc (FSI), the Catholic Diocese of Charleston and local school systems. Just today, Duke Energy sent $1,500 to assist in our emergency response."
Please keep our Sisters and those they continue to serve in your prayers.
Click here to learn more about the Felician Center in Kingstree, South Carolina.