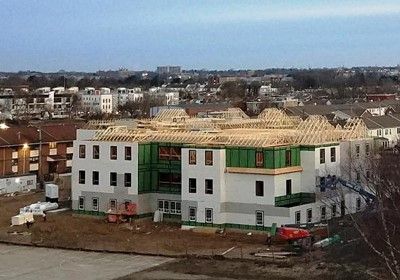 Construction on Francis House, the 60-bed assisted living and personal care facility in West Philadelphia, Pennsylvania, is in full swing. This addition to the property of Felician-sponsored St. Ignatius Nursing & Rehab Center will provide affordable housing for the elderly. At this time, 40 people from Mercy Life West Philadelphia and 44 people who visit St. Ignatius Nursing & Rehab Center have expressed interest in being among the first residents. 
Sr. Veronica Marie Lucero, mission integration leader, is asking for prayer "for the safe completion and continuation of ministries blessed by the Felician Charism that are alive and well in our lay partners for ministry."
Construction completion is set for June 30, 2020. The hope is to have the home completely filled and in operation by December 2020.
St. Ignatius Nursing & Rehab Center has served the West Philadelphia community for over 65 years. Sponsored by the Felician Sisters, it is a 4-star rated nursing and rehab center, offering resident and patient personal choice and quality care with an emphasis on spiritual, psychological and social needs.  All are welcome all regardless of race, religion or ability to pay. Learn more at www.stinrc.org.