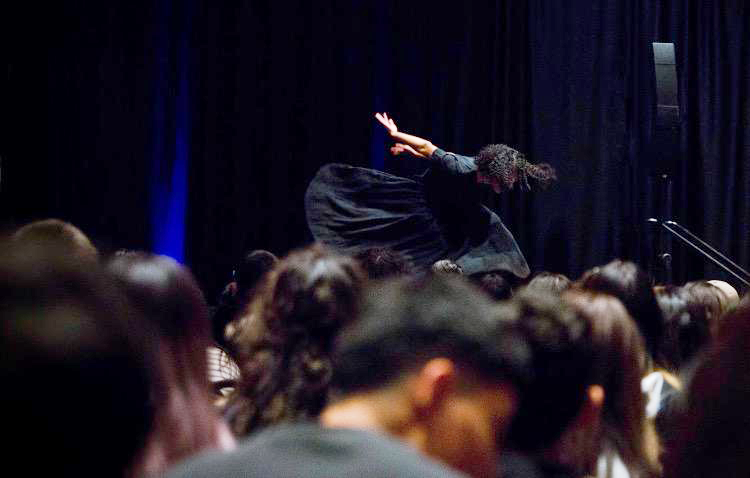 Sr. Desiré Anne-Marie Findlay, vocation outreach minister for the Felician Sisters of North America, was invited to be a keynote speaker at SANCTUS, the first annual Catholic youth conference in Albuquerque, New Mexico. Held from Jan. 31 to Feb. 2, the event was sponsored by the Norbertine Community and attracted students from across the state.
Sr. Desiré gave the first plenary talk of the conference entitled "Coming to God as You Are." She opened with a dance to Lauren Daigle's song "Rescue" and afterward spoke about how God comes to us in our struggles no matter how quiet or loud our cries may be. She told the students that while God is constantly seeking them, they have a choice as to whether or not they will seek God; and when they do, they don't have to bring some perfect, polished version of themselves – they can come to God as they are.
On Saturday, Sr. Desiré led a breakout session and managed to spend time at the Felician exhibit table but was grateful to have Sr. Jane Mary Gawlik there to accompany her, as well as Mairead, a young woman who has been discerning a vocation to religious life. Sr. Mary Juanita Szymanski was also able to join Sr. Jane and Sr. Desiré for the final day of the conference.
"The conference went by quickly," said Sr. Desiré. "I was beyond nervous to give the opening talk on Friday, but I had a lot of people praying for me, so by the time I got up on stage I knew God was leading. While it may have been the first SANCTUS conference ever, I have no doubt that an abundance of graces were poured out upon us over the weekend. May those graces last for many years to come."