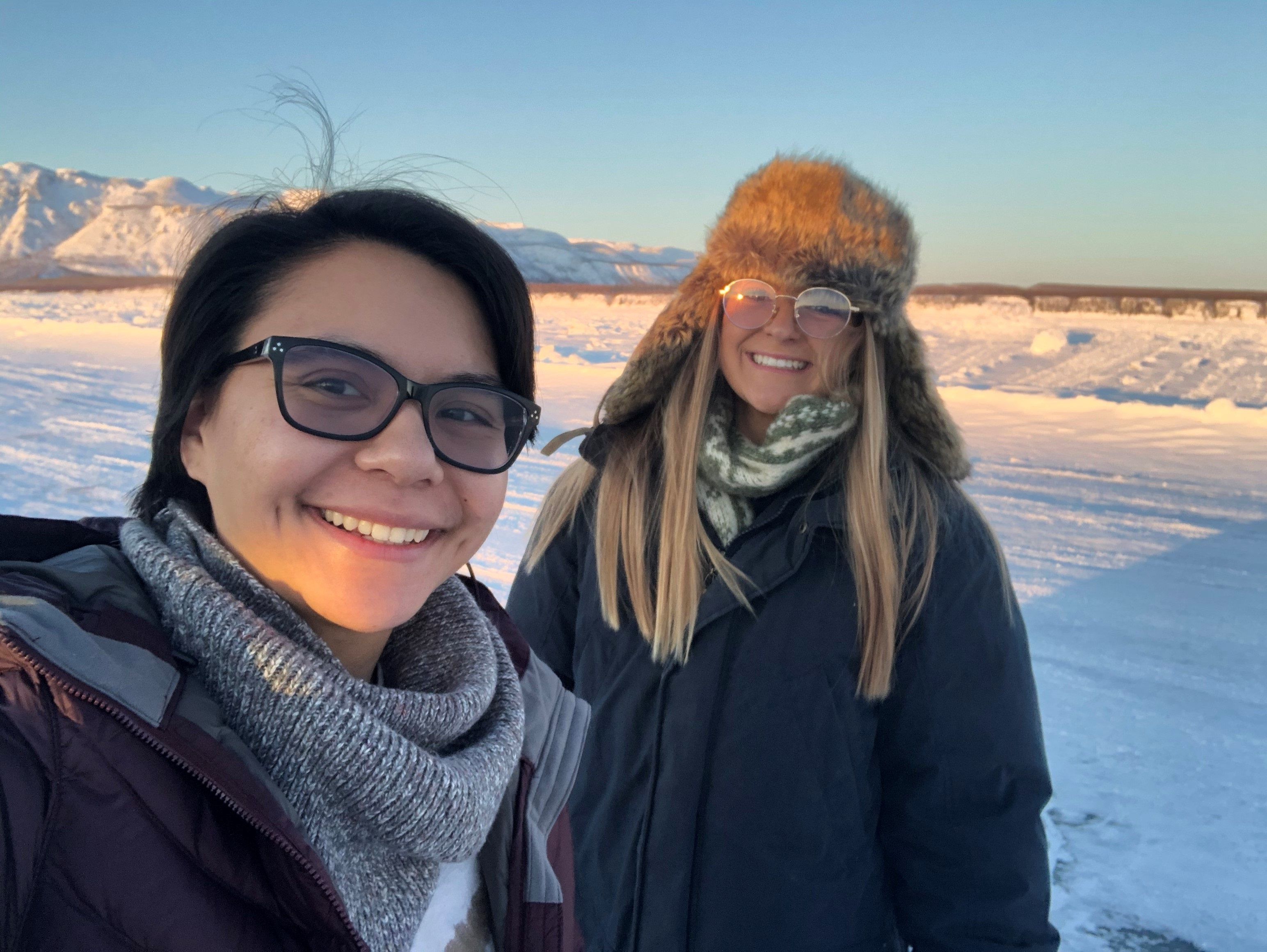 Two Felician Volunteers in Mission, Grace Ruppert and Simone The, recently arrived at Felician Mission: Tulita in the Northwest Territories of Canada. Both have accepted long-term placements in Tulita (Grace for 6 months and Simone for one year), where they will work alongside Sr. Mary Celeste Goulet, ministering to the people of the Diocese of Mackenzie-Fort Smith.
Tulita sits just 200 kilometers south of the Arctic Circle at the junction of the Great Bear and Mackenzie rivers. The average temperature in January is -25.6°C (-14.08°F) and travel to and from the small hamlet is via ice road or plane in the winter and boat or plane in the warmer months. To say this is a remote location would be an understatement.
Sr. Celeste began ministering in Tulita in 1979. She runs a preschool that she founded, the Sister Celeste Child Development Center, and serves as a pastoral leader. Since a priest is able to visit the area every five weeks, Sr. Celeste presides over most of the baptisms, all sacramental preparations, marriages and funerals.
Grace and Simone come to the mission with backgrounds rich in volunteer work and are eager to embrace the culture of the Dene, a First Nations people indigenous to the area. "Life here is so culturally rich and the land the people live on is full of legends and stories," said Grace. "I have tried many new foods, including caribou and moose, and listened to many wonderful stories about the people's connections to and love for their land."
Though the climate in Tulita is somewhat different for Simone, who comes from southern California, she is excited to put her background in child development to use at the preschool. "I have loved learning about how the preschool works here and getting to know the children," said Simone. "The area is breathtaking. I don't see much snow in California or open landscapes, so seeing God's beauty is really a blessing.
Both young women will be sharing their experiences at Felician Mission: Tulita with us over the next several months. Follow their story on our website, social media and in the monthly e-newsletter and the Felician magazine. Join our mailing list to make sure you get all the latest updates.
If you are interested in learning about the Felician Volunteers in Mission, click here or contact Caroline Stanfill at cstanfill@feliciansisters.org or 724-650-7936.