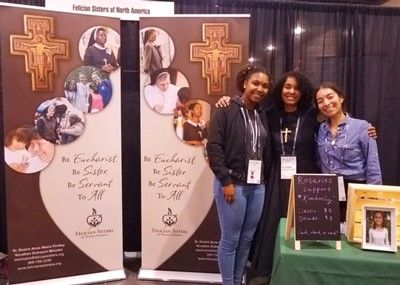 Sr. Desiré Anne-Marie Findlay, vocation outreach minister, recently attended SLS20 in Phoenix, Arizona, a conference for young adult leaders under the ministry of FOCUS. She was accompanied by two young women: Nadia, with whom she worked at Pomona Catholic, and Jordyn, whose family she met during her time in Columbus, Georgia, where she spoke about vocations.
Sister Desiré spent most of her time at the Felician Sisters booth where she distributed vocation materials, including brochures on Felician community and formation. She also sold rosaries in support of a young woman she sponsors in the Philippines.
Nadia and Jordyn spent time at the table, but Sister Desiré also encouraged them to take advantage of the many opportunities to attend sessions and listen to speakers.  
"They would always come back excited," Sister Desiré said. "They went to hear speakers like Dr. Scott Hahn and Father Josh Johnson, and they always had something to share with me. They kept thanking me and the community for the opportunity to start out their year this way."
SLS20 attracted approximately 8,000 young adults in leadership roles. Next year, FOCUS will sponsor SEEK21, a conference which is open to all young adults, not just those in leadership roles, which is expected to have an attendance of nearly 20,000. The two events alternate each year.
Sister Desiré said she is already looking forward to attending SEEK21, and she hopes to once again be able to take some young women with her to share in the experience.
"While I enjoyed getting to know other young people and felt I had some meaningful conversations, my highlight was seeing how the conference impacted the two young women who came with me," she said. "They got to hear some of their favorite Catholic speakers; became more familiar with the diversity of religious life; and spent hours in prayer. If my job is to help strengthen the vocations of this and the next generation, then I firmly believe that continuing to offer opportunities like this will do just that."