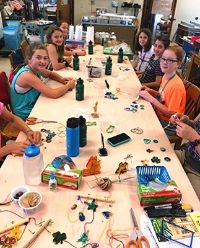 Year four of Glass Camp commenced this summer at Sister Mary Ann Therese Kelly's Illumination Stained Glass Studio at Villa Maria Convent in Buffalo, NY, from July 15-19.
Thirteen girls in grades 5-8, attended this exciting week of glassmaking, assisted by three recent graduates of Sacred Heart Academy, Sam and Lis McAllister and Becca Worling.
Sister Ann Therese said, "The girls come joyfully every day, dying to make more 'loot,' such as frit-cast hearts, stars, shamrocks, butterflies, dragonflies, feathers, and dolphins." Stand up cats, hanging owls, glass mobiles, necklaces, mini bowls and mini windows are other popular items.
"It is a pleasure to teach them this unique art form at so young an age, hopefully encouraging a future glass artist," remarked Sister Ann Therese. "Perhaps one day, they will show up at my senior stained glass class at Sacred Heart Academy."
To see more of Sr. Ann Therese's work, visit Illumination Stained Glass Studio on Facebook.