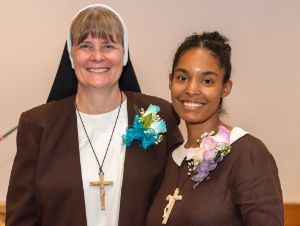 On Thursday, Aug. 15, 2019, the chapel at the Assumption of the Blessed Virgin Mary Convent in Rio Rancho, New Mexico was packed to the brim with joyful witnesses to the public profession of perpetual vows of Sisters Desiré Anne-Marie Findlay and Maria Louise Edwards.
Father Scott Mansfield, pastor of St. John Vianney Parish in Rio Rancho, was the principal celebrant, assisted by Father Ben Onwumelu, Father Michael Greb, OFM, Cap., and Father John Trambley.
During his homily, Fr. Onwumelu spoke of the hope embodied in Srs. Desire and Maria Louise, comparing their answer to God's call to that of the Blessed Mother. "Today you are like the Blessed Virgin Mary," he said, "who said yes. . .Lord is the One who is choosing you."
After professing their vows into the hands of Sr. Danat Marie Brysch, Minister General of the Felician Sisters, Srs. Desiré and Maria Louise accepted the symbols of profession: a simple ring with the inscription "My God and My All," a sign of their betrothal to their eternal King, and a candle, a symbol of their total commitment to Christ and to being a witness to others.
Sr. Desiré is a native of New Mexico, having been born and raised in Albuquerque. It was while she was a student at the University of New Mexico that she first encountered the Felician Sisters. Knowing that Desiré had a background in ballet and was dancing for a semi-professional basketball team, the Sisters asked her to do a prayerful dance for a jubilee celebration.
"What I didn't know," said Sr. Desiré, "was that this dance would set the course for my future. Dance had always been a performance to me, or something to do for fun. When I danced at the jubilee celebration, I realized for the first time that dance could be prayer."
After graduating with a degree in secondary education, Sr. Desiré entered into a time of discernment with the Felician Sisters and began working as a Spanish teacher at Pomona Catholic School in California. She entered the Felician community in 2010. For the past two years, she has been based in Moon Township, Pennsylvania, where she works as the Vocation Outreach Minister for the Felician Sisters.
As she prepared to take her final vows, Sr. Desiré said, "I feel honored that our loving God would invite me to such a place of growth and beauty. I could have gone anywhere or done anything, but the Lord knew my heart and knew this would allow me to flourish in exciting and unexpected ways."
Vowed religious life was also not part of the plan for Sr. Maria Louise. A native of New Jersey, she graduated from New York University with a bachelor's degree in fine arts and dreams of an acting career. She seemed to be "on the right track" as she began taking roles in the theater, commercials, and films, but she found herself feeling unfulfilled. "I was following the world's advice on how to find happiness," she said, "and I was still empty inside. I began searching for deeper answers and longing for deeper meaning in my life."
In a move she describes as going "from Broadway to God's way," Sr. Maria Louise entered the Felician Sisters in 2011 and served as mission coordinator at Holy Name of Mary College School in Mississauga, Ontario, Canada. For the past three years, she has been ministering at the Blessed Mary Angela Spirituality Center in Pomona, California, providing a ministry of presence to the homeless population and those living in poverty. She is also part of a prostitution diversion program that reaches out to women on the streets and victims of human trafficking and is very active in the Águilas del Desierto group, which searches for those who have died trying to cross the border through the desert and gives them a proper burial.
As she professed her vows, Sr. Maria Louise was moved to tears of joy. "The greatest gift I've received as I've journeyed with the Lord is tremendous freedom," she said, "Life changing inner freedom, from blame, guilt, judgmentalism and shame. His love has freed me to love others and freed me to live my vows as a sister with great joy.  I am so blessed to be a Felician."