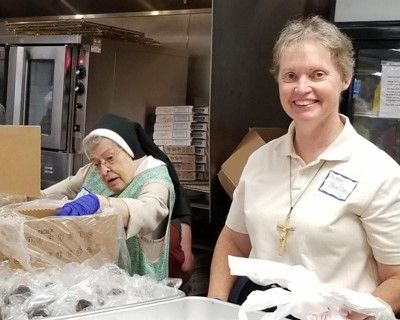 "Serve where you are needed." That was the directive Felician Foundress Blessed Mary Angela gave to her Sisters, and they continue to heed that call.
When Crossroads, a social service outreach agency in Detroit, received a last-minute cancellation of volunteers, they raced to find help serving the 560 lunches they provide each Sunday. They reached out to the Felician Sisters, who mustered a dozen volunteers. Alongside Felician Associates, friends, and other volunteers, the Sisters prepared and served lunches to those in need for more than three hours, returning home exhausted but joyful and grateful for the opportunity to serve.
To learn more about Crossroads of Michigan, visit them at www.crossroadsofmichigan.org.