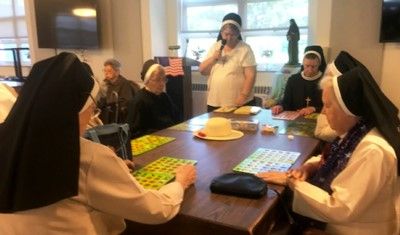 The Fourth of July celebration for the Felician Sisters in Lodi, NJ, took on special meaning this year. True to the Felician spirit of generosity, the Sisters used their afternoon activities to raise funds for the Mary Ruchalski Foundation, which benefits children battling cancer.
Mary, who was a cousin of Sister Mary Fides Milwicz, lost her battle with cancer at age 14. Her family started a foundation in her name to help other families and to advocate for increased funding into childhood cancer research.
By the end of a day filled with picnic food, Bingo, and raffles, the Sisters had raised $1000 for the foundation.