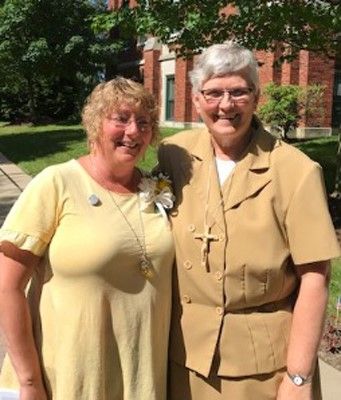 On Sunday, June 30, the Felician Associates of Western Pennsylvania renewed their commitment to the Felician Sisters and welcomed new Associate Darci Smith. Area Associate Coordinator Sister Mary Faith Balawejder began the service by saying, "Today we gather to celebrate our God and His special covenant with us. We celebrate baptismal grace...We celebrate our commitment as Felician Sisters and Felician Associates."
Darci Smith made her first commitment as a Felician Associate, promising to be faithful to the charism and mission of the Felician Congregation. She pledged "daily prayer for the Sisters, participation in Associate gatherings and events, and following and sharing the Gospel message of love and compassion with family, students, and others." Darci was then presented with her Associate pin, a symbol of her covenant.
Felician Associates are lay men and women who partner with the Felician Sisters in prayer, service, and companionship. Click here to learn more.