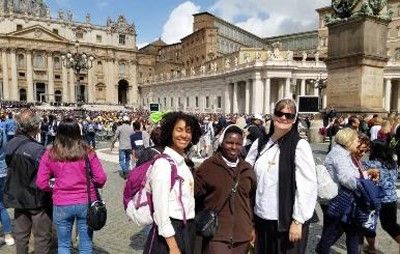 In preparation for their public profession of perpetual vows, Sisters Desiré Anne-Marie Findlay, Maria Louise Edwards, and Maria Bakhita Waweru, MC, accompanied by Sister Suzanne Marie Kush and Mary Andrew Budinski, set off on a pilgrimage to Poland and Italy. The following is Part 7 of their journey.
The Pilgrimage Continues: Part 7 – Rome Continued
On their second day in Rome, the Sisters traveled to the Catacombs of St. Callixtus, where they were joined by Father Benedict Vadakkekara, OFM, Cap., a research scholar at the Capuchin Historical Institute in Rome and a lecturer of Franciscan Mission History at the Pontifical University Antonianum.
As they toured the Catacombs where half a billion people, mostly children and infants, were buried, they learned about its significance in the history of the Church. Discovered in 1849, the grave stones within the Catacomb are adorned with early Christian symbols. One of these, the fish, was used as a way for Christians to identify themselves to one another during a time of great persecution. If a Christian doubted whether the person sitting next to him was also a Christian, he would draw half of a fish on the ground, and if the other person was a Christian he would complete the other half.
After their tour, the Sisters celebrated Mass in the Catacombs. Standing in the resting place of martyrs, Father Benedict recalled the Scripture passage where Jesus asked his disciples, "When I sent you out did you lack anything?"; they replied, "Nothing."
After Mass, the Sisters joined the massive crowd in St. Peter's Square for the praying of the Angelus with Pope Francis. Sister Bakhita said, "I was amazed at the huge crowd gathered in St. Peter's Square in the pouring rain just to pray with him for less than ten minutes. All I could think is, if the blood of the martyrs is the seed of the Church, then this crowd is the harvest or manifestation of those seeds."