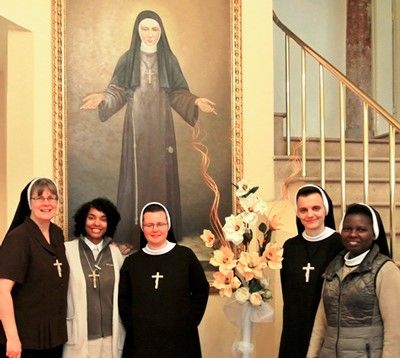 In preparation for their public profession of perpetual vows, Sisters Desiré Anne-Marie Findlay, Maria Louise Edwards, and Maria Bakhita Waweru, MC, accompanied by Sister Suzanne Marie Kush and Mary Andrew Budinski, set off on a pilgrimage to visit the Felician Sisters in Poland and walk in the footsteps of Felician Foundress Blessed Mary Angela Truszkowska. The following is Part 2 of their story.
Part 2 - Kraków
After visiting Warsaw, the Sisters set off for Kraków, where Felician Foundress Blessed Mary Angela Truszkowska spent the years leading up to her death. Once there, the group was able to spend time in Mother Angela's room at the convent. Sister Desire described the experience, saying, "It was moving to imagine Mother glancing out her window or walking across the floor of her room.  It is surreal to understand that this was where she lived for so many years. It was also special to visit the chapel and attend Mass before the exact same image that Mother knelt before when our community began in 1855."             
As they continued to walk in the footprints of Mother Angela, they learned about her relationship with Father Honorat, her spiritual advisor, and her struggles to do what she could to help her rapidly expanding community.
The Sisters also reflected on how Blessed Mary Angela's silent suffering transformed her into a woman of courage and joy, who had a unique spirituality beyond her years. Though she suffered from painful malignant tumors, relentless headaches, and a gradual deafness, all of which led to feelings of isolation, she remained devoted to her Sisters and continued to minister in whatever capacity she was able.
At the Museum and Archives of Mary Angela Truszkowska, Blessed Foundress of the Felician Sisters, the Sisters were able to put faces to the names of those who were such an integral part of the congregation's history.  They were also able to see Blessed Angela's habit, from which many people had cut strips as relics after her death. 
The trip was transformational for all who participated, helping them understand their connectedness to the homeland of the Felician Sisters. After praying near Mother Angela's relics, Sister Bakhita commented, "Just as I call Kenya my motherland, I feel that every Felician Sister should proudly call Poland her spiritual motherland, for Mother Angela and our charism were born there. So I am a Kenyan-Pole."