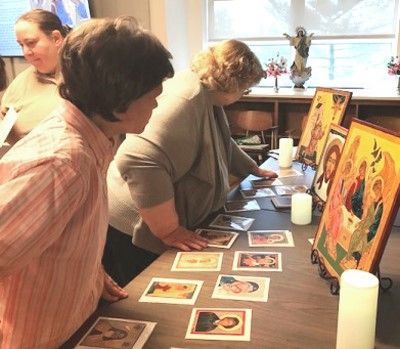 Following the May Crowning of the Blessed Virgin Mary in the convent chapel, the New Jersey area Felician Associates met to learn about the creation and prayerful use of icons. Felician Associate and iconographer Toni Ann Russo discussed three icons she "wrote". (Icons are not considered paintings, but rather sacred writings.) She also explained the difference between pictures and icons and discussed the traditions, history, and myths associated with them.  
Toni Ann explained the guidelines for the icon painter, which include prayer, how the board is prepared, and the order in which the various steps are performed. The colors chosen have meanings, and icons never show emotion. Upon completion of an icon, a prayer is said and the icon is varnished. The iconographer does not sign the icon, because it was God who painted the icon through him or her. Since an icon is a sacramental, it is consecrated by a priest so that the faithful may venerate it.
After the presentation, Associates chose an icon to prayerfully reflect upon, demonstrating their intended use.