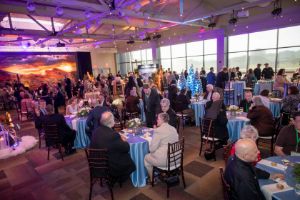 On Thursday, May 3, 2019, the Felician Sisters of North America held their 4th annual What's Cooking event in Pittsburgh, Pennsylvania. Each year the Sisters choose a theme that highlights different aspects of their ministries in order to educate and inspire their friends, supporters, and fellow Sisters. This year's theme was "Food for the Body – Food for the Soul", putting the focus on four of the Felician ministries that serve the homeless and those living in poverty: St. Felix Centre in Toronto, Canada; St. Felix Pantry in Rio Rancho, New Mexico; the Response to Love Center in Buffalo, New York; and the Blessed Angela Spirituality Center in Pomona, California.
Held at the Heinz History Center, the event featured poignant videos from each ministry, including testimonials by some of those served by the Sisters. Guests were then invited to visit four stations, each representing one of the highlighted ministries.  Felician Sisters were available at each station to share the stories of the ministries and answer questions. Each station also featured live cooking demonstrations and a delicious sample of cuisine from each of the regions.
At the end of the evening, Sister Mary Christopher Moore, Provincial Minister for the Felician Sisters of North America thanked all who came for their generous support. She also expressed her gratitude to the lay partners who work alongside the Sisters in the ministries and credited them with helping them continue their mission to "cooperate with Christ in the spiritual renewal of the world."
What's Cooking events will held this fall in Dearborn, Michigan, on September 19 and Buffalo, New York, on October 10. Details and registration information will be available soon at www.feliciansistersna.org/events.