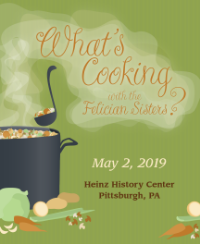 The Felician Sisters of North America invite you to join them for an evening of discovery, delectable food, and fun cooking demonstrations at:
What's Cooking with the Felician Sisters?
Thursday, May 2, 2019
5:45 pm – 9:00 pm
Join us at the Heinz History Center for a virtual journey across the continent to experience how the Felician Sisters are reaching out to those in physical and spiritual hunger as they provide
Food for the Body – Food for the Soul.
Meet the Sisters who are striving to be caring and compassionate servants to those in need, and learn about the places and people they serve, from the snowy landscape of Canada's Northwest Territories to the arid desert of America's Southwest.
Enjoy a strolling dinner featuring a variety of cuisine with cooking demonstrations by several guest chefs, including:
Revered Samuel J. Esposito
Chaplain of the Felician Sisters, Our Lady of the Sacred Heart Convent
and
Sister Rita Marie Vondra, CSSF
Felician Sisters of North America Provincial House Chef
Tickets are $125 per person. VIP tickets are $150 per person and include parking in the 13th and Smallman parking lot adjacent to the Heinz History Center, admission to the event, and your choice of a pre-event private tour of one of the following exhibits: Western Pennsylvania Sports Museum, The Vietnam War: 1945-1975, or the Special Collections Gallery. Private tours start promptly at 5:00 pm.
For more information, please contact Robin Monza at r.monza@feliciansisters.org or 724-384-5286.
Proceeds benefit the Felician Sisters of North America and their ministries.