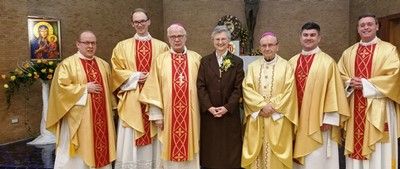 Sister Danat Marie Brysch, Minister General, celebrated her 50th Jubilee of Consecrated Life in Rome, Italy, on Sunday, March 3. The sisters of the Generalate Community were busy for several days prior to Sunday preparing the chapel, dining room, music, food, flowers, and more to make the day special for Sr. Danat.
On display during the celebration was an image of Our Lady of Częstochowa which a Felician Sister painted and is displayed in Sr. Danat's parish church in Cestochowa, TX. The pastor graciously took a picture of the painting and sent it to Sr. Danat for use at the jubilee celebration.
Bishop Antoni Stankiewicz was the presider at the Eucharistic liturgy; he was joined by Archbishop Józef Michalik, Father Joshua Guillory, chaplain; Father Shane King, Father Sean DeWitt, and Father Kevin Bazzel.  Fr. Joshua delivered a moving homily on the gift of consecrated life, and Sister Danat Marie renewed her vows into the hands of the Immaculate Heart of Mary.
After Mass, the celebration continued in the dining room. Everyone joined in singing Sto Lat (May you live a hundred years) and congratulated Sr. Danat Marie on her 50 years of faithful service.