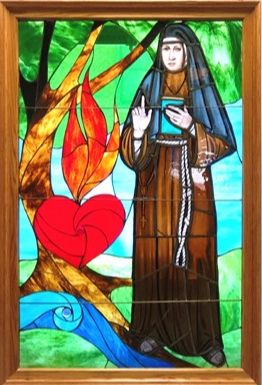 The Felician Sisters at Mother of Good Counsel Convent in Chicago, IL, and a team from Felician Services, Inc., gathered in the convent chapel last week to bless and dedicate a window featuring Blessed Mary Angela that was generously donated by stained glass window artist Sister Mary Ann Therese Kelly, CSSF.
The four-foot tall window originally stood in the former Felician convent at St. John Kanty Church in Buffalo, NY, where the Sisters came to teach in the parish school in 1894. Msgr. Robert Golombek gave it to Sister Ann Therese, who removed the figure of Blessed Angela and created a new background that, in her words, "included symbols such as a gothic arch behind Angela, symbolizing her dedication to the church. There is a tree, symbolizing the tree of life and the Felician family. There is a stream of water, symbolizing baptism as well as the passage of time, and a prominent heart with flames, the Immaculate Heart of Mary. At the center of it all is Angela, pointing to heaven, holding the Christian Scriptures, her ultimate goal for all of her many Sisters then, now, and into the future."
The window has been installed just outside the Board Room of Felician Services headquarters in Chicago. At the blessing and dedication service, Paul Lipowski, Senior Vice President of Mission Integration, said, "It's a nice reminder to have Blessed Mary Angela watching over us through another art form with this window. May she always inspire the actions and decisions we make in her name for the Felician-sponsored ministries."
Sr. Mary Ann Therese is an adjunct professor of art at Felician-sponsored Villa Maria College. She developed and operates the Illumination Glass Studio, which offers classes in glass art through Villa Maria, and her own work graces structures across the U.S. and internationally. In addition, she is a member of the American Glass Guild and a trustee at Stained Glass Association of America.
Colleen Fulkerson, Vice President of Knowledge Management and Senior Ministry Advisor for Felician Services, said, "Felician Services is so grateful that one of her works is now gracing its hallways."
To see more of Sr. Mary Ann Therese Kelly's work, check out Illumination Glass Studio on Facebook at https://www.facebook.com/Illumination-Stained-Glass-Studio-118014091607849/.