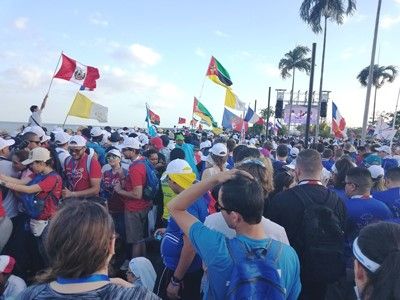 Sister Judith Marie Blizzard, Sister Desiré Anne-Marie Findlay, and Caroline Stanfill, program outreach coordinator, spent their first full day in Panama for World Youth Day on Tuesday, January 22.
Traveling with 43 other pilgrims from the Diocese of Pittsburgh, they began their journey on Sunday evening, January 20, arriving by bus via an overnight trip from Costa Rica.
After settling into their home for the week, the group from Pittsburgh ventured into the hot and bustling city, standing shoulder to shoulder with pilgrims from around the world. They participated in the opening Mass, and then spent the evening relaxing, eating, and getting ready for the week ahead.
Sister Desiré said, "Even after a difficult night on the bus and a whole day on our feet, it seems we are all very energized by the kindness we are experiencing in Panama. People call out Bienvenidos a Panamá! (Welcome to Panama) from their windows while countless cars honk and drivers happily extend the same greeting.
"We can't believe we finally made it here, and I guess they feel the same way. It's a reminder to me that we are not the only pilgrims, but that the people of Panama share in the graces and beauty of the pilgrimage as well."