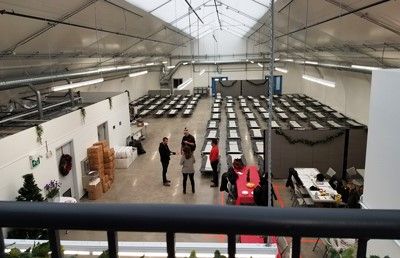 On December 22, 2018, the Felician Sisters of North America celebrated the opening of a second Felician-sponsored 24-hour respite site in Toronto, Ontario, Canada, just in time to provide Christmas shelter and warm meals for those in need.
St. Felix Centre, a sponsored ministry of the Felician Sisters, has been operating a 24-hour respite program in partnership with the City of Toronto since November of 2017. In the fall of 2018, the City of Toronto requested that St. Felix Centre assume operation of a new type of respite program utilizing a semi-permanent structure. 
"St. Felix Centre 2" is equipped to provide up to 100 guests with accommodations, meals, showers, laundry facilities, as well as housing and case work support.
Respite Program Director Brian Harris said, "Our program is open to both men and women independently as well as couples, and the whole site is pet friendly. The expansion of our respite program to two sites will allow St. Felix Centre to continue the work started by Mother Mary Angela and the Felician Sisters."